Frequently Asked Questions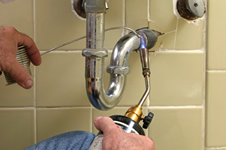 'You and your company have been professional at all times, the advice was first class and your work completed on time'... Read more
Q: How much will the work cost?
A: At FiveOax we understand that everybody's requirements are different. That is why we always like to hear about what needs to be done before giving you a price, to enable us to give you an accurate and fair estimate of cost, individually suited to your needs. All estimates are provided free of charge. Smaller jobs, such as boiler servicing and repairs, can be quoted over the phone or by e-mail. Larger jobs will usually involve a visit from John Oakes himself, or one of our skilled engineers.

Q: How soon can we do the work?
A: Lead time for availability varies with the time of year. We can usually fit urgent jobs in, otherwise jobs are scheduled to mutually acceptable time scale. Please call us or contact us using our online form to ask us for a no obligation quotation.

Q: What are our payment terms?
A: We have a three stage payment:
10% deposit
50% of balance on start date
The remainder due on completion of job

Q: What payment methods do we accept?
Cheque
Debit Card
Credit Card (1.5% service charge)
BACS – Electronic Banking
Chip and Pin - FiveOax are proud to announce for your convenience the addition of chip and pin to the methods of payment for our services. Our engineers now carry portable, wireless, user friendly card readers. Now you can pay by all major credit and debit cards in the comfort of your own home, with an instant receipt as confirmation of payment. Alternatively you can pay by card over the phone by phoning one of our branches.

Q: What are our guarantees?
A: Our workmanship is guaranteed, with a year's guarantee against faulty workmanship, plus any manufacturers warranty as applicable.

Q: Are we fully insured?
A: We have Public liability insurance to £2.5M – and are fully insured as necessary.

Q: Do we supply everything or can you buy your own goods?
A: We can offer a supply and fit or a fit only service. We only supply good quality products from reputable manufacturers, thus ensuring the quality of goods and avoiding any problems arising from damaged/incomplete orders. This ensures the smooth running of the job.

Q: Do we supply recommendations?
A: We have a list of people for you to ring, at current sites we are working on. Please see our recommendations page for more details.

Q: Will there be much disruption on jobs?
A: We strive to keep disruption to a minimum, keeping your house as clean as we can, using dust sheets and cleaning up after ourselves. Click here for more details on our procedures.

Q: What about after sales service?
A: We are proud of our excellent reputation and will do all we can to ensure that you are happy with our work before we leave a job. However, in the unlikely event that you should experience a problem after we have left we will do our best to put it right as quickly as possible.